We currently have the following Belties available for purchase:
Heifers for Sale
We currently have several new born heifers. Some will be available by the spring of 2020.
SOLD - Ledgestone's Fiona (AI) #43103-B - (Southfield Major Ronaldo [GBA]3859065000 x Ledgestone's Chloe #37058-B) DOB 3/9/2018. Very nice well conformed heifer with a sweet disposition. Her sire was an outstanding sire in Great Britain and winner of several British championships. Fiona will be ready to breed this coming spring.
Bulls for Sale
#19-3 - Registration pending - (Double M Ranch Hand #41295-B X RHO Eunice #35980-B) DOB 10/31/19 Nice young bull calf with potential to be a future herdsire. Or he'd be a great steer prospect for a youngster to show.
Steers for Sale
We currently have a steer available in the 700-800 lb. range.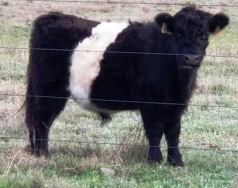 Cows for Sale
None at this time.
---